Both Amazon and Google (as well as a number of other tech giants) offer data warehousing solutions for companies of all kinds. BigQuery vs Redshift … which is better for your organization and data needs?
On one hand, Amazon Redshift is leading the way in columnar storage; on the other, Google BigQuery has been gaining market share with continuous investment into cloud storage.
It can be incredibly difficult to differentiate especially when new releases are being pushed out on a weekly basis. Still, it's a choice you have to make.
Note: At Kloudio, we didn't make a choice. We provide easy data sourcing reporting to both Amazon Redshift and Google BigQuery users. Our platform delivers fully-automated data syncing, and we guarantee that even your largest datasets can be analyzed in minutes.
But while we didn't have to choose between BigQuery vs Redshift, we understand that it's an important decision you have to make.
Let's figure it out.
Download the Modern Data Stack e-book to learn how your core data stack can help you stop spending valuable time data wrangling and start leveraging it for valuable insights and important decisions.
BigQuery vs Redshift: Performance
When comparing Amazon and Google, neither should have performance issues. You're right—except for one thing. When it comes to processing hundreds of gigabytes of data, performance extends beyond that of a few simple queries.
A stall in performance could directly impact your entire team's productivity. In business, we simply cannot afford to run a query for hours on end when it comes to high-volume datasets. (If you're struggling with slow Redshift queries, read our expert tips here.)
AWS ran a test to compare BigQuery vs Redshift performance.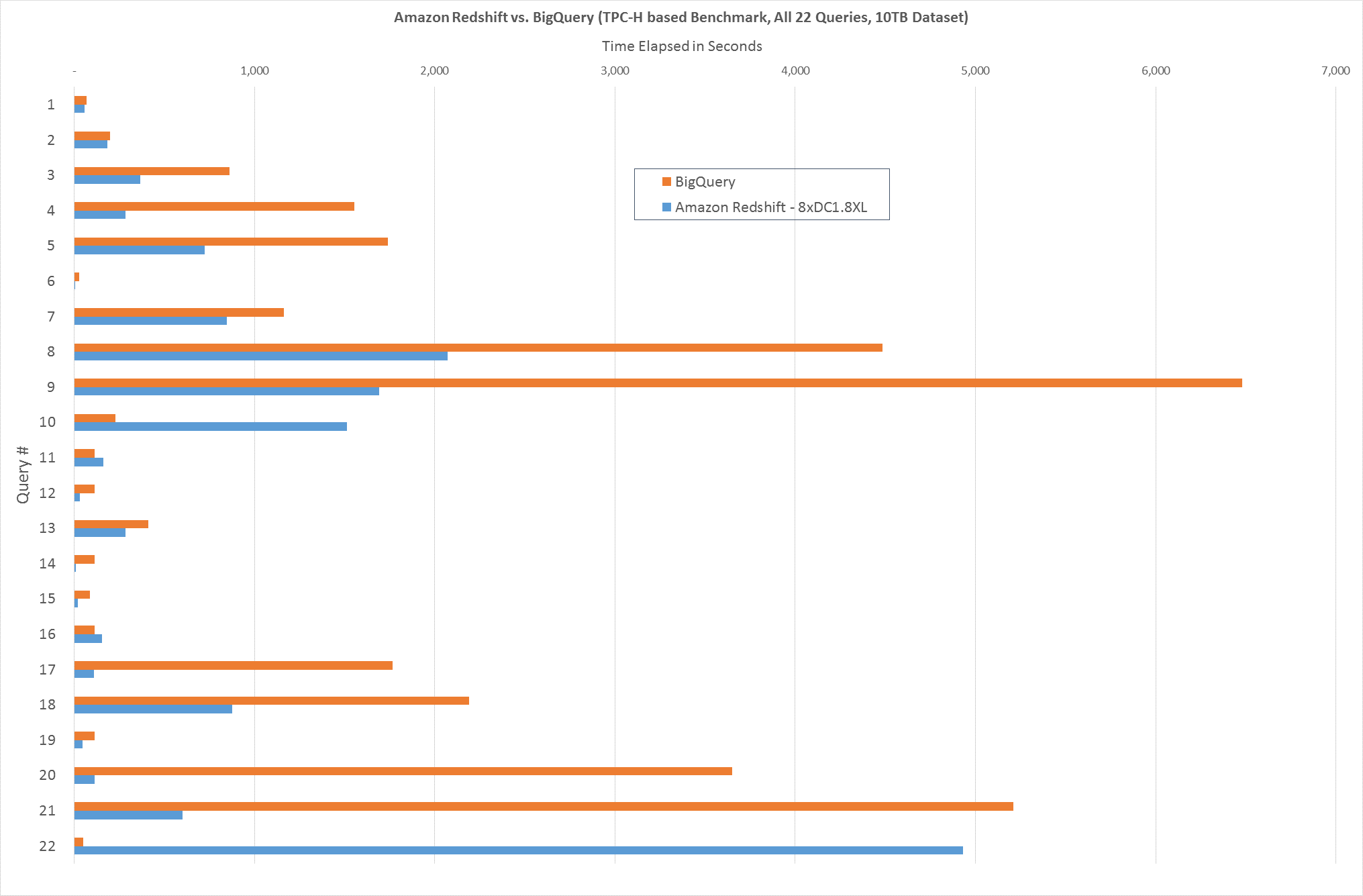 When AWS ran an entire 22-query benchmark, they confirmed that Redshift outperforms BigQuery by 3.6x on average on 18 of 22 TPC-H queries.
When considering the relative performance for entire datasets, Redshift outperforms BigQuery by 2x. (Note that Google has conducted a similar test using a different TPC-H benchmark.)
BigQuery vs Redshift: Affordability
At $0.08 per GB, Redshift is considerably more expensive, versus BigQuery which costs $0.02 per GB.
Unfortunately, BigQuery only offers storage at its price point and not queries. When taking into account that BigQuery charges separately for queries at $5 per TB, it doesn't seem to be the best deal.
Looking at these two pricing models, we can see that Redshift's pricing is much more predictable for those that have a restricted budget. With BigQuery, it's challenging to predict how much you'll end up paying at the end of the month without using BigQuery's cost control feature.
Which pricing model works better for your team? If you're not high on usage and want to save money, BigQuery may be the way to go. Overall, on an enterprise level, Redshift is the better deal.
BigQuery vs Redshift: Usability
Unlike performance and pricing, usability is harder to evaluate objectively. Because usability is intangible and subjective to the user, it comes down to each personal use case. So, let's look at several determining factors:
Simple presentation is where BigQuery wins. BigQuery abstracts your data so it appears simple and easy to use right away. Unfortunately, this comes at the cost of doing away with important details.
Data types are comparable for both data warehouses, which each include text, integers, floats, booleans, and more. Redshift does support additional data types, like financial data. Where BigQuery falls short is with user-defined precision which may result in inaccuracies.
Loading time is more complex for Redshift users because a variety of formats like CSV, JSON, and AVRO compress and complicate the process. On the other hand, it's simpler for BigQuery (but again more limited as a result of its simplicity).
Expansion potential is huge for both Redshift and BigQuery. BigQuery focuses on this with huge communities for support and implementation. That said, AWS is growing fast and Redshift is built on top of Postgres on which great tools already exist.
What other usability factors do you consider when assessing data warehouses?
BigQuery vs Redshift: Final Thoughts
We've found Amazon Redshift to have the upper hand in performance, cost, and overall usability. This is particularly true when used on an enterprise scale. However, if simple accessibility and usage are important to you, BigQuery should be the winner. Whether you use Redshift or BigQuery, create a free Kloudio account to connect your data to your favorite spreadsheet in minutes.