Data forms the base on which business decisions are conceptualized and used for competitive market advantages. To this effect, a recent report found that 95% of businesses require dedicated software assistance to accrue structured and unstructured data.
Organizations need tools to extract, transform, and load, data, to facilitate analytics, data availability, and data accessibility. Enterprise Data Management (EDM) is concerned with administrating business data and the processes depending on it.
The main concern is, how far should a business go about managing enterprise data? Is it worth investing in an end-to-end business data wrangling tool? It's better to concentrate on the importance of enterprise data management with an intent to understand how it will spawn into a US$274.3 billion market by 2022, with a 5-year CAGR of 13.2%.
Why Is Enterprise Data Management Important?
An enterprise can highlight consumer trends, offer personalized services, and optimize products/services by analyzing business data.
Hence, data management and governance have irrefutable benefits for businesses hoping to understand their industry better. Companies subscribe to Platform-as-a-Service to invoke benefits, offering enterprises the ability to facilitate data orchestration, governance, and wrangling enhancements.
If you are still working to leverage the dividends offered by an enterprise data management platform, you should consider the following operational benefits:
Consolidate multi-source data on your cloud's data management platform to keep it efficient, accessible, and streamlined
Your team can track your end-to-end enterprise data lifecycle better
Pull, compile, store, and analyze omnichannel data without hassles
Perform highly accurate analysis with the best version of available data
Visualize data to overshadow competition in the market
An efficient Big Data platform can improve chances of devising impactful strategic decisions by 69%; and, grasp over demographic demands by 54%
You can rely on data management efficiency, thereby, reducing costs by 10%
Key Elements of Enterprise Data Management (EDM)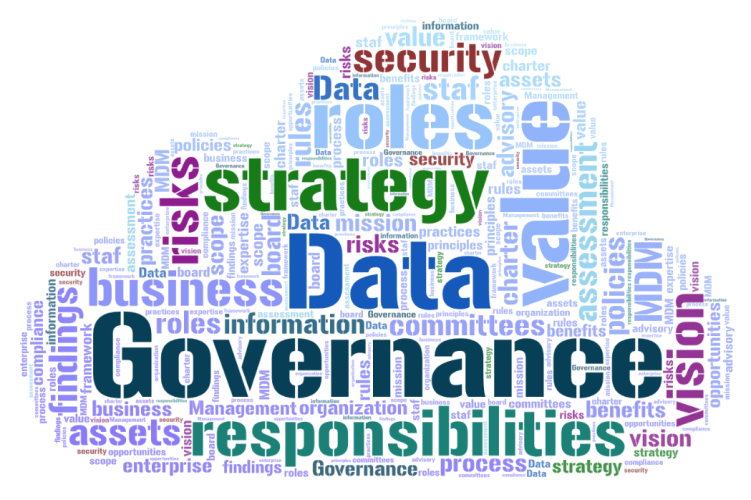 Corporate data management is all about augmenting traditional data management strategies. Its key elements focus on present-day market scenarios and challenges by efficiently collecting, storing, and analyzing intelligence.
As such, the critical elements of modern data management can be classified as:
1. User-Centric Data
Data management should guide the overall process, align it with a strategic purpose, and monitor its growth, opportunities, and goals. Data needs to have a sense of purpose so that collecting essential data doesn't waste resources, thereby increasing scrub time.
User-centricity guides the very architecture of an organization's processes and operations. Roles and teams are built with that purpose in mind. Resultantly, businesses can capture actionable data from different types of service users.
2. Data Security
The average total cost of data breaches in 2021 reached a whopping USD 4.24 million, which is the highest in seventeen years. To fight increasing cyber-attacks, businesses need to prioritize data security and consider it as an essential segment of their master data management strategy.
Security compliance should be at the forefront of your data-oriented software operations. Greater emphasis on flagging down non-compliant behavior can help curb infrastructure and software-level security attacks.
3. Data Flexibility
Business data management should be flexible enough to permit data utilization for every actionable purpose within the organization's value proposition structure. Data intelligence is not limited to simply learning the market state, but it can also be used extensively for improving internal systems and procedures.
Data flexibility renders a minimized cost for business data strategy changes with business goals. With data flexibility, a business can scale faster with agility and a focused goal orientation.
4. Centralized Data Repository
Enterprise Big Data management platforms are used to mitigate the trends of data silos. Businesses should centralize their data rather than housing them on disconnected systems.
Disconnected systems lead to data duplication, which can impede BI analytics and other operations, costing time, effort, and money. A centralized data repository only houses singular, most recent versions of your business data.
5. Cloud-Based Data Operations
Cloud integration is elemental to data management. The idea is that your data should be allowed to reach wherever needed. The cloud bridges accessibility to your centralized data from any remote, valid request.
Premium cloud platforms shield your data logistics with multi-layer encryption and security protocols. Thus, without posing any challenges to data availability, your business will seldom run into delays, especially when driving business intelligence needs.
6. Cost Management
Modern corporate data management aspires to leverage better policies to cut operational costs. Cost reduction frees up and repurposes your enterprise budgets for areas that can benefit from a financial infusion. IaaS and automation are just the tips of the iceberg as far as business cost optimization is concerned.
Hence, entrepreneurs and data architects/engineers must always focus on these tenets of data management to implement a fail-proof plan that reaps dividends over time.
Enterprise Data Management Components
It's easy to segregate the enterprise data governance model into clearly-defined components, with their inherent list of benefits.
1. Data Governance
Data governance encompasses the data-oriented enterprise policies and processes. It outlines and enforces enterprise data laws dealing with three different aspects:
People: Assembling the right human resources team for your data operations is essential for enhancing data management's efficiency and efficacy. Such resources are capable of handling the data-centric roles assigned to them.
Processes: The master data management framework must handhold data operations sequentially. The governance plan should define everything relevant to data control, audit, and monitoring.
Technology: Selecting the right technology is mission-critical for successful data management. The right technology implementation will help you streamline processes, optimize resource usage, boost customer confidence in your business while efficient verification and monitoring, helps visualize intelligent patterns which are useful in decision making.
2. Data Integration
Modern data governance leverages cloud data integration as the only way to assimilate data from different sources.
Data integration, as a process, streamlines intelligence from various channels for data-driven decision-making. It is also easier to perform analytical visualizations across time, especially when all your data is well integrated.
3. Master Data Management
Enterprises should aim to maintain a singular point of reference for defining and managing the company's data and associated operations. Master Data Management (MDM) tasks your team with unifying scattered data to be mobilized for use by the whole enterprise.
Thus, the framework for your master data management strategy must focus on data consolidation and utility.
4. Data Security
Safeguarding business data should be a top priority at every step of an enterprise's journey. Data security is essential for cybersecurity and quality assurance.
Cyber-attacks have risen by 42% in the first quarter of 2021 in the US; for this very reason, supply chains remain the most concerning entry point for these breaches.
These data breaches need to be curbed by maintaining compliance with users' data security and privacy standards. Documentation and case studies from past data security incidents are good sources of information for updating measures.
Implement Enterprise Data Management (EDM)
Implementing enterprise data management is a structured process, that's not covered in one or two days. It consists of a few basic steps, which need to be followed to ensure a seamless transition. With the right implementation, an enterprise can function smoothly and expect good results in the long run.
1. Define goals
Enterprises must assess their data flow and its types before devising a corresponding management strategy. Defining such foresightful goals is time-consuming and requires experience.
2. Define Deliverables
Businesses must set well-defined demands for their data-oriented goals. Entrepreneurs need to define the objectives and goals that summarize the operational scope.
Setting benchmarks for data quality and operational targets must not overwhelm your business processes; such instances call for phased approaches with incremental deliverables.
3. Determine Standards, Policies, and Procedures
The Enterprise Data Management Council recommends businesses adhere to updated standards and policies. These are crucial for data quality consistency, security, and mitigating data-oriented disruptions.
Procedures handhold your team and help them adapt to good practices required for meeting data operation standards. Data standards and policies are also integral to business SLAs for dealing with personable data (especially HealthCare, FinTech).
4. Educate and Inform Stakeholders
All stakeholders should always remain compliant with data standards and policies within their latest iterations. Without proper dissemination, the enterprise's goals and strategies for integrated data are not absorbed by teams working with the data in question.
5. Focus on Data Quality
Insufficient or corrupted data can derail analysis and business intelligence. Data quality is integral to data operations, and standards and policies set its requirements. To ensure appropriate steps are taken to set out data quality, it's essential to adhere to proper quality maintenance regulations at every data assimilation and usage stage.
How Can Kloudio Help With Your Enterprise Data Management Needs?
Selecting an appropriate enterprise data management platform is a crucial task, which entails going through a few items on a resulting check list. Each aspect should be checked off against a pre-defined set of criteria, so that you have a foolproof data platform to do your organization's bidding.
Kloudio, as an enterprise management platform service provider, links your organizational goals with a series of data warehouses and data sources, so that you have everything on one single platform. Right from performing analytics, to automated reporting, your enterprise can gain substantial benefits from Kloudio's integrated data platform.
If you feel like taking a deeper dive into Kloudio's platform, you can create a free account.