Businesses of varying scales are rapidly adopting a data-first approach to business. By 2022, the business intelligence applications market will reach a valuation of $54.1 billion, especially if it continues to grow at its current CAGR of 11.2%.
The Salesforce CRM Cloud spearheads this growth with unparalleled BI analytics support. Hence, the ongoing task is to maneuver their Salesforce data to take advantage of recent developments and technological advancements.
As a CRM, Salesforce allows us to source product and service data from diversified data sources.
Why Connect Your Salesforce CRM to External Systems?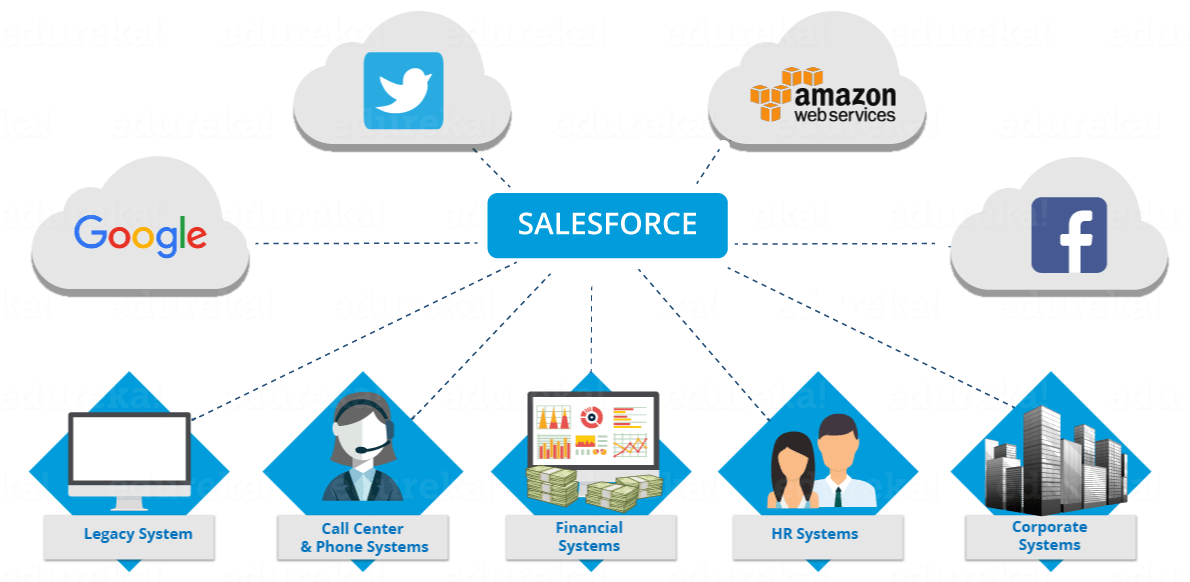 An effective Salesforce data integration model can go a long way in saving time, effort, and money. These resources focus on implementing business intelligence, and inferences gained are used for strengthening business decisions.
Streamlining your Salesforce CRM, analytics tooling platforms, and data warehouses can improve the following aspects:
Bi-directional data exchange allows you to access your platform data seamlessly while performing ad hoc analysis, along with routine Salesforce Google analytics and business analytics on data sourced from multiple repositories.
Self-service reporting lets you perform customized analytics for meeting business intelligence requirements and automatically generate AI-augmented visualizations from your Salesforce customer data.
Automate your business intelligence processes to expedite complex analytical operations and ease report creation for real-time enterprise level data.
Cloud-based analytics, along with systematic integrations automatically place your business data on the right side of privacy standards and regulations. Customer data security is an integral part of meeting service/product SLAs.
Top 5 Salesforce Analytics Products
Platform-as-a-Service (PaaS) integrates various data connectors with Salesforce, thereby helping you augment native Salesforce data operations to a great extent.
Such low-code and no-code alternatives simplify business intelligence activities, making these PaaS services a must-have for organizations and businesses alike.
1. Kloudio
Kloudio is a powerful, new multi-source data analytics platform that can automate your analytics ETL pipeline activities. The service caters to some globally renowned names such as Netflix and Rakuten.
Their cloud-based data tools help businesses roll up their data on the Salesforce analytics cloud for intuitive and time-sensitive decision-making by integrating with a wide array of data warehouses.
With Kloudio, your BI team can perform data write-backs and smart data scrubbing post-analytics by integrating everything with Salesforce, Airtable, Jira, BigQuery, and many more.
Kloudio's BI toolchain can help you capture unique insights, even if you don't have any programming knowledge. The drag-and-drop features help orchestrate a WYSIWYG dashboard from real-time data.
Besides being a data connector for Salesforce, Kloudio allows you to aggregate data for analytics from ad campaigns, social media, and other different sources to meet customized BI routines.
2. Einstein Analytics (Tableau CRM)
Einstein Analytics (Tableau CRM) notably specializes in providing instant BI insights, that are native to Salesforce. In its modern iteration as Tableau CRM, this platform dispenses advanced AI-based data modeling, simplifies complex reports, and offers inferences with digestible visualizations.
Tableau allows you to work with several Salesforce data types, thereby performing analytics on mobile devices while remotely accessing data from multiple sources.
Tableau CRM's approach facilitates analytics at an unparalleled, granular level. You can assess customized business performance, KPIs and consolidate service data from various processes to unify departments under common objectives.
Salesforce Einstein Analytics paves the way for novices with industry-specific templates, out-of-the-box integrations, pre-made workflows, dashboards, etc.
To learn Einstein Analytics Salesforce packages, you can refer to its neatly segregated topics, each of which is based on the business industry, products, and solution requirements.
3. Hevo Data
Hevo Data is another collaborative, no-code cloud data analytics platform embraced by leading business brands. Its AI-powered automated tooling caters to intelligent analytics by extracting data from APIs, webhooks, social media, search engine analytics tools, RDBMS & non-RDBMSs.
Hevo highlights another aspect of enterprise data analytics, i.e., rapid scalability. Extract Salesforce data and load it efficiently post-transformations. Thankfully, with Hevo, you can load data into data warehouses like BigQuery, Redshift, and other data repositories following a real-time data warehouse architecture.
Analytical teams commit various data schema changes on the fly without affecting the pipeline setup. However, you can provide for any perceived disruption scenarios with Hevo's automation, covering error handling.
4. GoSquared
Event-driven, customized business intelligence is the next game-changer for real-time data analytics. GoSquared is a Cloud-based, sales data-oriented analytics service catering specifically to web eCommerce.
A broad list of GoSquared integrations includes Salesforce so that businesses can act on sales leads in seconds. It primarily focuses on sales intelligence, process optimization, and marketing data insights.
Deriving insights from user behavior helps your enterprise optimize the consumer journey for your patrons. You can also implement requirement-specific triggers that alert your team to retain aggrieved customers while handholding users to the point of sale for successful conversions and more.
5. AW Stats
AW Stats is an open-source log file analyzer that can generate insightful stat reports with data from the web, streaming, FTP, and mail servers.
AW Stats can extract a long list of parametric data from website visits. The robust statistical reports generated from AW Stats unique visitors per day can help your business zero in on specific KPIs, user demographics, visit durations, platforms, robot visits, and much more.
AW Stats is used with a low-code and no-code methodology, using CUI and GUI, respectively. It integrates with many plugins and offers XCSRF attack prevention premium tools such as GoSquared.
AW Stats can serve as an excellent GoSquared alternative for entrepreneurs and startups with sales, marketing, and retail data analytics on a low budget. With AW Stats, businesses can improve their SEO strategies based on the sheer user data at their disposal.
6. Segment
Did you know 1.145 trillion MB of data is generated per day? With such whopping numbers in tow, it is becoming all the more essential for organizations to be prepared to create the appropriate storage space in data warehouses.
As the options for data storage continue to increase, organizations have a lot of options to choose from. The higher the number of options, the more data sources for platforms to tackle. As the name suggests, Segment is a resourceful analytical tool, which helps you connect with multiple platforms with a few clicks itself.
You can consistently deal with segmentation, data collection, cleaning, and management easily, without worrying about getting into too many complexities. To combine your year-on-year data, you can effectively use Segment to do the needful.
7. Pingdom
Like some of the other PaaS platforms, Pingdom is also a data analytics tool aimed at identifying and eliminating latency issues, allowing you to drive real-time analysis.
Pingdom takes into consideration various factors which might be slowing down your system, while keeping a lookout for factors such as user interactions, up-time, down-time, and performance metrics.
An organization can fare well with robust statistics, which gives the users plenty of workable analysis, and reporting tactics. Pingdom does well as a Salesforce Analytics tool for collecting and managing website data specifically.
How to Connect to Salesforce Database?
It's essential to know how to connect your Salesforce data CRM to one or more options listed above. The process for connecting your Salesforce database to a PaaS alternative remains the same for more or less all alternatives.
Here are some steps to help you connect your database seamlessly.
Register for an analytical service by choosing the preferred service package. Most premium services, such as Kloudio, offer a free trial that allows you to test the pros and cons before signing up for the final deal.
Connect your Salesforce user account with the admin credentials to integrate it with your analytics tool. The integration essentially fits in with your Salesforce API key. The modify all data permission allows you to extract the stored Salesforce data aggregated from your website(s), such as user IDs, client IDs, etc.
Once you have set up your Salesforce account, the Salesforce data loaders in the analytics tool will extract your data. Transform the data with custom filters as per your business requirements. Data wrangling tools offered by Kloudio and other PaaS software simplify even the most high-volume data pipelines.
Data analysts can instantaneously scale Big Data operations to meet ad hoc requirements and manage massive data volumes on no-code platforms.
You can build custom data models, set up custom schemas, roll up graphically informative data for presentations, and share/publish it with your team on any platform.
Which Analytical Tool to Use?
A recent report has revealed that 68% of respondents prefer digital engagements over physical retail, especially in light of the pandemic.
A digital commerce leader needs to efficiently manage Salesforce analytics and use the available data to optimize their sales processes, enhance customer experiences, and identify trends to meet organizational objectives.
Kloudio, as an organization, makes the integration process seamless. You can connect Salesforce with Kloudio and other PaaS software to enhance your data reporting and analysis.
Create your free account to explore Kloudio2.0.